Archive for Entertainment
Networking Hits the High Seas from Sheephead Bay to Sunset Park
By HAROLD EGELN, JR.
Networkers truly were at sea, but with a purpose and a destination of fun mixed with business. Setting sail from Sheepshead Bay aboard the luxury yacht Atlantis on the evening of October 19, a Networking on the Seas summer party was held to network and develop resources to better serve senior citizens. Many of the guests on board were members of PESID, People Empowering Seniors Independence and Dignity.
"What a great way to network on a beautiful evening aboard this wonderful yacht with our friends, members and supporters," said PESID founder Annette Fisher, a certified senior advisor, and a "captain" of networking, as well as a real estate salesperson at BRESRE Reality, loan originator at Fort Funding Corp. among other hats.
Summer party sponsors included Sunrise Senior Living of Sheepshead Bay, Annette Fisher, BRESRE Reality Inc., Fort Funding Company, Bayada Home Health Care, Fox Rehabilitation and OnSite Providers. "This is an enjoyable way, sailing on the water, for a fabulous networking party," said President Wendy Black of ONXY Health Care Solutions, a guest.
"This is the best!" said Robert Howe, an estate, trust and wills attorney in Bay Ridge. The Atlantis sailed by Bay Ridge, where Lutheran HealthCare's Shore Hill Housing senior residential buildings could be seen clearly on Shore Road from the yacht. Howe was on last year's PESID cruise with members of the Morning Money Makers chapter of Business Networking International (BNI), which meets at the Bridgeview Diner.
"Sunrise Senior Living of Sheepshead Bay would like to thank all who attended. Their presence clearly made it a magical evening," said Jeannine Valentine, Director of Sales Service at Sunrise Living of Sheepshead Bay. "It was our pleasure to provide fun, well-deserved hours of relaxation and enjoyment, to thank all on board for the hard work they do each and every day to better the quality of life for the people of Brooklyn."
A hot food buffet and dessert prepared by the chefs at Sunrise was enjoyed by eaters and dancers delighted stepping lively above the first floor dining room to the music provided by a live deejay. There was a raffle, too, and a thank you ceremony to the leaders and staff of Sunrise Senior Living of Sheepshead Bay on the dance floor.
On the third floor open air roof, the delights of sponsors and an array of invited friends were enhanced as the Atlantis voyaged from its Pier 9 dock past Brighton Beach, Coney Island, Seagate, Bensonhurst, Bath Beach, Bay Ridge and Sunset Park and into Upper New York Harbor, where a sea breeze and the setting sun made for much enjoyment.
PESID was founded by Fisher, who is also president of Golden Maturity, Inc., a few years ago, bringing together professionals with experience and expertise in every aspect of senior help and empowerment. Leaders in those various professions wrote a book, "Seniors, Put Your Ducks in A Row: Protect Your Nest – Based on True Stories." To be published this fall.
Appropriately around the Atlantis in Sheepshead Bay were many ducks, and a few swans. PE.S.I.D. covers Brooklyn, Staten Island, Queens and Nassau. Its website is www.pesid.com. In case people would like more information on PESID and for those who are not computer savvy, they can contact Miss Fisher on her cell phone at 1-347-291-7479.
The networking cruise highlighted how professionals in the senior assistance field do work together effectively, and how they can increase their reach and effectiveness through PESID and the sponsoring organizations, noted Fisher and others, declaring Networking On The Seas a sail away success.
Coney Island Soap Box Derby Winners
Coney Island Soap Box Derby, Speed Award Winners
1st place CI Prep Public Charter School
2nd Assemblyman Hakeem Jeffries
3rd CI Youth Alive
Coney Island Soap Box Derby, Best Design Award Winners
1st Girl Scouts
2nd John Liu
3rd DA Hynes
Coney Island Soap Box Derby, Leadership Award Winners
1st Circus
2nd CAB Unit 1PP
3rd Senator Diane Savino
See photos of the actual event below.
Saturday September 8, 2012, Noon to about 6 P.M.
If you have never seen the Coney Island Soap Box Derby you really don't want to miss it. About 300 children are expected to participate. If you have previously participated or cheered the participants on, you know what a fabulous show the Coney Island Soap Box Derby is.
Pamela Harris, Executive Director of CIGG, Coney Island Generation Gap started the Coney Island Soap Box Derby several years ago, to create comradery and fellowship in the community. Pam is doing a fantastic job bringing this all together. You know you don't want to miss this years Coney Island Soap Box Derby.
Pam has the support of many of the area businesses, NYPD, and many local government officials. Admission to view and cheer participants of the Coney Island Soap Box Derby is free.
Every entrant in the Coney Island Soap Box Derby walks away a winner. Winners are also chosen from three categories.
Coney Island Soap Box Derby Winners
Best Speed
Best Design
Comradery & Fellowship
The Coney Island Soap Box Derby is being held at Kaiser Park, Coney Island, Brooklyn NY, between W24th Street and W32nd Street, and also runs from Neptune Avenue to Bayview Avenue.
Enjoy these photo taken on September 8, 2012 at the Coney Island Soap Box Derby, Brooklyn NY.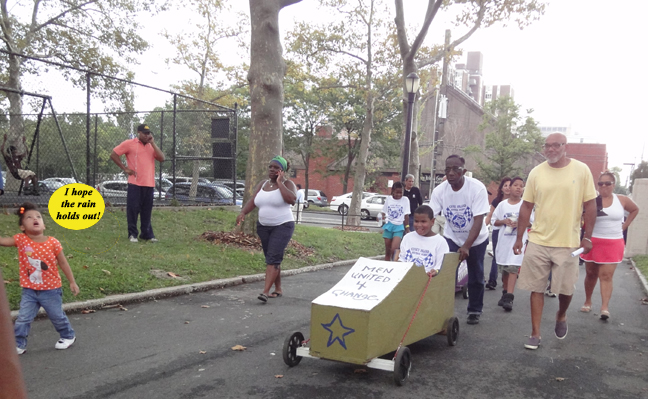 Contributed by Annette Fisher
DA Show NY was performing in the Rockaways and I was able to film a clip to show you, two guys, Richie Triolo and Gerry Dunne, performing.
I enjoyed watching them and I think you will, as well.
Enjoy Annette Fisher
Also don't forget to check out my PESID .com site. PESID stands for People Empowering Seniors Independence & Dignity.
We meet monthly in Brooklyn NY and membership is free. Sometimes we have events with entertainment and or Appetizers etc. Many times the events are free since the sponsors make that possible.